Thanks to Cindi Huckfeldt who handled Bon Jovi for his final major at Wichita Kennel Club Show under Dana Cline. First time in the ring with Cindi and they clicked.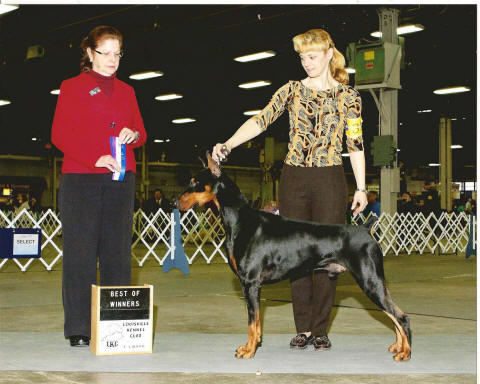 Breeder judge Mims Datskow awarded Bon Best of Winners in Louisville. It was one dog short of a major. Thanks Karin Fox for showing our boy and Mims for the nice win!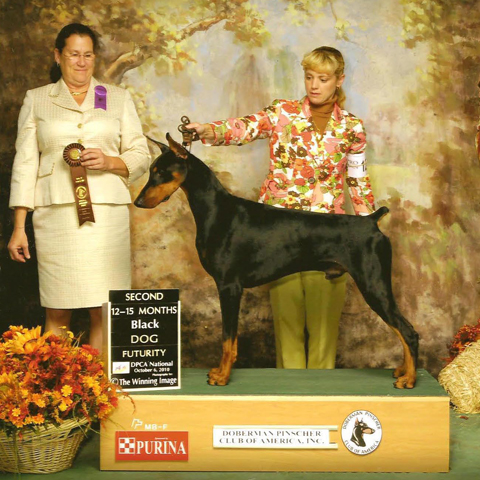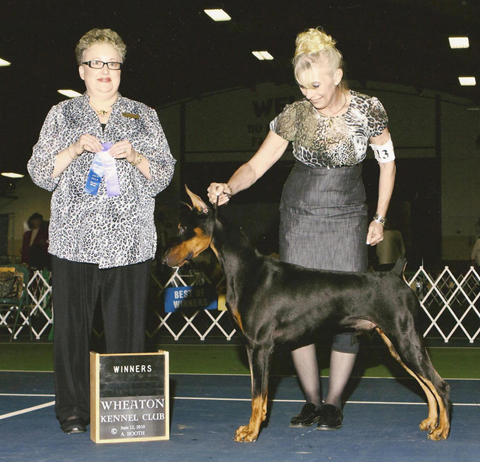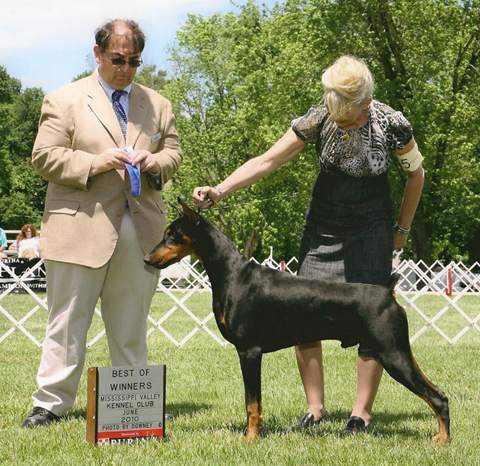 Shown in the puppy classes for only 2 weekends, Bon Jovi was awarded 3 reserves and was winners twice.
Thank you to judges Mr. Lasbrook and Mr. Spitzer for the points and Dawn Honaker for handling.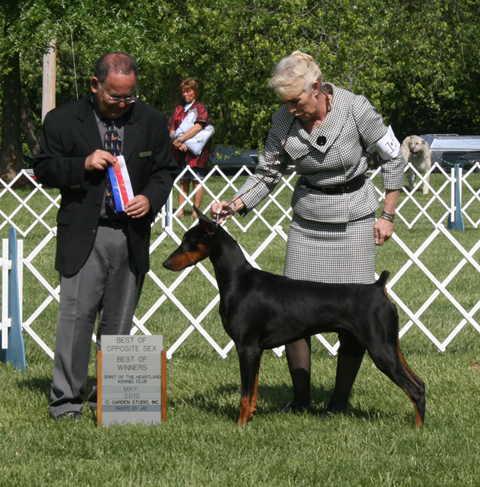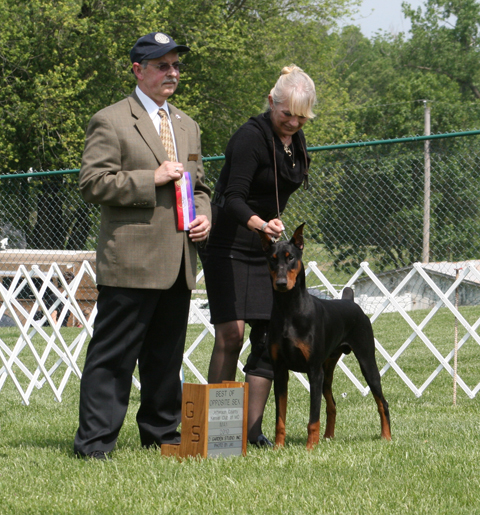 Breeders:  Mary Jane and Julie Ladd
Owners: Mary Jane and Julie Ladd
Sire Ch Alpha's the Conquistador

CH Alpha's Ultimate Warrior

Ch Cambria's Irish Rebellion WAC

Ch Cambria's Cavalleria LC-10D

Ch Orion's Rasberry Beret

CH Alpha's My Funny Valentine WAC CGC TDI

Ch Cambria's Cactus Cash

Am., P.R., Intl. Ch Cupcake of Siemax Rose LC-11L

AM CAN CH Alpha's Satin Doll CD ROM TDI

Ch Cambria's Cactus Cash

Ch Rahdy's Sail the Seven Seas

Ch Cambria's Nocona v Texas UD LC-11D

Am., P.R., Intl. Ch Cupcake of Siemax Rose LC-11L

Ch Sherluck's PB Maxx of Mystique

Sherluck's Siena Rose

Dam Ch Walkaway's Get the Party Started

Ch Marienburg's Repo Man

Am/Int/Mex Ch Arg/Brz GRCh Nello's Lex Luthor WAC

Arg Ch Will Ross Opium

Nello's Eureka Black

Ch Marienburg's Coral Pendant

Ch Bruda Teller of Tales

Gravin Onyx v Neerlands Stam CDX, SchH III

Am/Intl Ch Walkaway's Boot Scoot N Boogie WAC LC-10D

Ch Maco's Sugar Twin

Ch Kristea's Sugarlion

Ch Excalibur's Ba Ba Black Sheep

Ch Primary Guilty As Cin

Am/Can Ch Star Tyme's Field of Dreams WAC

Ch Primary Cinnabar